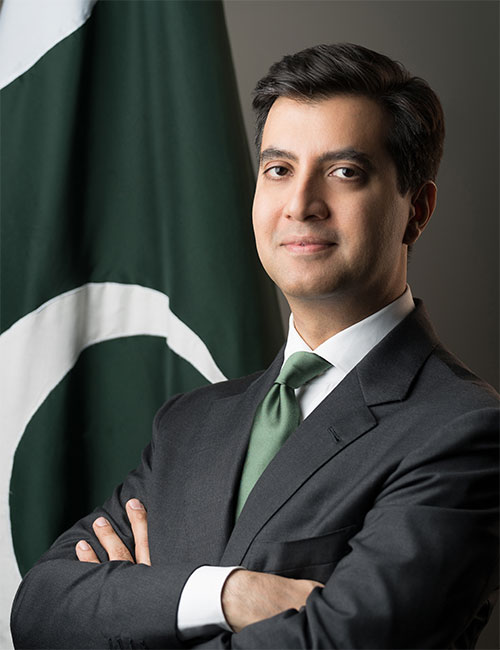 Ambassador of the Islamic Republic of Pakistan to the United States
H.E. ALI JEHANGIR SIDDIQUI
Mr. Ali Jehangir Siddiqui assumed office as the 28th Ambassador of Pakistan to the United States of America in May 2018. From August 2017 until May 2018, he served as Special Assistant to the Prime Minister of Pakistan with the status of Minister of State.
Professional Background
Ambassador Siddiqui previously served as Chairman of JS Bank, which he founded through the acquisition of American Express Bank Limited's Pakistan operations in 2006. JS Bank has branches in 160 cities of Pakistan with over 5,000 employees and total assets of approximately US$4 billion (as at March 31, 2018). Until 2017, he served as Chairman of JS PE Management which he founded and led to become Pakistan's largest domestic private equity asset management firm. Prior to his return to Pakistan in 2002, Ambassador Siddiqui worked in Hong Kong as a Director with Crosby Capital, an Asian investment firm that managed over US $400 million including funds managed on behalf of the Hong Kong and Korean governments.
In partnership with other entrepreneurs he has invested in and helped build a number of successful businesses including:
Arabian Gulf Steel (a steel producer in the United Arab Emirates)
Jura Energy (an upstream energy company in Pakistan)
RAK Ghani Glass (the largest pharmaceutical glass producer in the Middle East)
Philanthropy
Until his appointment to the Government in 2017, Ambassador Siddiqui was CEO of the Mahvash and Jahangir Siddiqui Foundation ("MJSF"; mjsf.org) a grant making charitable foundation focused on the education, healthcare and social enterprise sectors. He has worked in natural disaster zones in Pakistan and has a strong personal commitment to finding large-scale solutions to disaster response. MJSF directly provides emergency relief in humanitarian crises and implements projects in partnership with major INGOs. Under Ambassador Siddiqui's leadership, MJSF committed grants of approximately US$ 20 million.
From 2008 until 2017, he served as a board member of Acumen (acumen.org) in New York, which is one of the world's leading institutions committed to eradicating poverty.
Public Sector Service
Ambassador Siddiqui's prior public-sector experience in Pakistan includes the following appointments:
Member of the federal Privatization Commission.
Member of the Private Sector Advisory Board of the federal Planning Commission.
Member of the Board of Investment of the provincial Government of Sindh.
Member of the Community Development Board of the provincial Government of Sindh.
Commitment to Academia
He has been a guest lecturer at a number of educational institutions including:
National Defence University in Islamabad.
National School of Public Policy in Lahore.
College of William and Mary in Virginia.
Board Experience
Ambassador Siddiqui has served on the boards of a number of companies in Pakistan including those that are the leading public listed companies in the technology, building materials, reinsurance and port management sectors.
Education
He received his BA in Economics from Cornell University and completed a post-graduate course in Nanotechnology from the University of Oxford. In addition, he has attended executive education courses in leadership, business and entrepreneurship at the University of Oxford, University of Cambridge and the Sloan School at MIT.
Family
He and his wife have two young daughters, who they hope can grow up in multicultural and tolerant world.
Other
In 2014, he was honoured by the World Economic Forum as a Young Global Leader.
In 2013, Ambassador Siddiqui was recognized as one of Pakistan's top-100 individual taxpayers.
He is an avid skier and in 2008, he and his younger brother joined a Norwegian expedition and skied to the North Pole.
Ambassador Siddiqui is a fan of foreign language film and drama.