Ambassador Aizaz Chaudhry addressing the Board of Trustees of the Medical Clinic of the Muslim Community Center (MCC) on December 22, 2017.
Ambassador Aizaz Chaudhry presenting a souvenir to Dr. Rashid A. Chotani, Executive Director of the MCC Medical Clinic on December 22, 2017.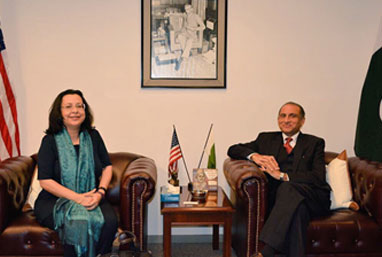 Dr. Anita K.M. Zaidi, Director, Bill & Melinda Gates Foundation called on Ambassador Aizaz Chaudhry at the Embassy on November 08, 2017 and briefed him on the initiatives of the Foundation and its work in Pakistan.
Ambassador Aizaz Ch. visited special consular camp established at APPNA Annual Convention, held from 5-9 July 2017 in Orlando, Florida.