Aizaz Ahmad Chaudhry, Pakistan's Ambassador to the United States, had separate meetings with Senator Jim Risch (Republican-Idaho) and Congressman Albio Sires (Democrat-New Jersey) on Capitol Hill today. Senator Risch chairs the Senate Foreign Relations Subcommittee on South Asia and is also a member of the Senate Select Committee on Intelligence. Congressman Sires is a member of the House Foreign Affairs Committee and Ranking Member of its Subcommittee on the Western Hemisphere.
In the meetings, Ambassador Chaudhry briefed the US legislators on Pakistan-U.S. relations and conveyed Pakistan's perspective on key issues of interest to both countries. The Ambassador said that Pakistan's comprehensive and indiscriminate operations against terrorist groups had not only resulted in a much-improved security environment, but placed Pakistan in the ranks of some of the fastest-emerging global economies.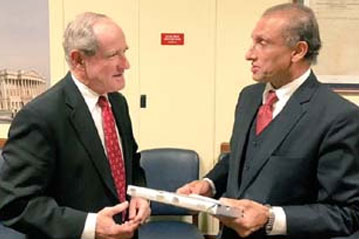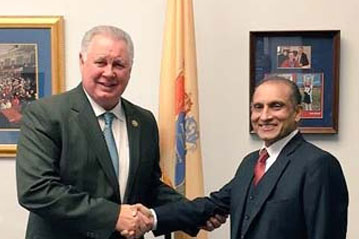 Ambassador Chaudhry said Pakistan's hard-won security and economic gains would be at risk as long as the situation in Afghanistan remained unstable. Continued engagement between Pakistan and the United States is critical to achieving their shared aspirations for peace and stability in South Asia.
In their remarks, both Senator Risch and Congressman Sires agreed with the Ambassador on the need for close cooperation between Pakistan and the United States.
November 08 , 2017
Washington D.C