Ambassador Aizaz visits MCC Medical Clinic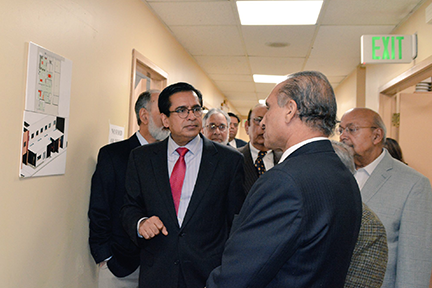 Ambassador Aizaz Ahmad Chaudhry visited today the Medical Clinic of Muslim Community Center (MCC) in Silver Spring, Maryland at the invitation of Pakistani American community members.
Ambassador Chaudhry was welcomed by Dr. Rashid A. Chotani, Executive Director of the MCC Medical Clinic as well as MCC board members. He was briefed on the institution's activities and the range of medical services and treatment offered by the Clinic to individuals without medical coverage at highly subsidized costs.
Ambassador Aizaz lauded the contribution of the Pakistani American diaspora for community service, welfare and humanitarian causes in United States as well as in Pakistan. The Ambassador also commended the fact that the Clinic was providing quality services to thousands, many of whom cannot afford health coverage, without any regard for religion, race, creed or gender.
Ambassador particularly appreciated the efforts of Pakistani American community members, in spearheading such initiatives that help build interfaith harmony.
Washington DC,
22 December 2017