Ambassador holds wide-ranging engagements in Pittsburgh, Pennsylvania
Ambassador Aizaz Ahmad Chaudhry spent a busy day in Pittsburgh, Pennsylvania, today. He held a public talk at the prestigious Carnegie Mellon University, spoke at World Affairs Council, and addressed a gathering of Pakistani-Americans community in Pittsburgh.
While talking at Carnegie Mellon University, the Ambassador emphasized the need for strong Pakistan-U.S. relations. He stated that Pakistan and the United States need to work together to achieve the common objectives of peace and stability in the region, especially in Afghanistan. He recalled that for seventy years, the two countries had worked together in a broad range of areas from education and health to commerce and information technology. He also recalled how the two countries had worked effectively to defeat the evil forces of Al-Qaeda. He said that Pakistan's successes both in security and economic domains must be recognized and appreciated. The people of Pakistan expect the relationship to be based on mutual respect and mutual trust. He noted with appreciation the growing bilateral trade and investment ties, and the interest that corporate America was taking in the economic opportunities being unleashed in Pakistan due to recent upswing in the economy of Pakistan.
Earlier in the day, while addressing "Distinguished Speaker" Luncheon Series at the World Affairs Council, where he was welcomed by the institution's President Ms. Angelica Ocampo, the Ambassador highlighted the achievements and sacrifices of Pakistan in the fight against terrorism. He said that Pakistan has made concrete progress in eradicating the scourge of terrorism from the soil of Pakistan. Terrorists are now on the run, and through intelligence-based operation Rad-ul-Fasaad the remaining terrorist elements are being tracked down. Referring to the deteriorating security situation in Afghanistan, the Ambassador expressed the concern that the instability in Afghanistan could undermine the peace and stability of the region. Replying to a question, he stated that there was no military solution to the Afghan problem, and urged a comprehensive political approach to achieve a lasting peace in Afghanistan. He highlighted the role that effective border management can play in interdicting the cross border movement of terrorists. He also urged the early repatriation of Afghan refugees as increasingly Taliban and other militants were morphing into the refugee camps.
In his remarks to the Pakistani-Americans, Ambassador Aizaz Ahmad Chaudhry appreciated the important contributions that Pakistani-Americans had made to the progress and prosperity of the United States. The Ambassador noted that Pakistani diaspora was serving as a strong bridge between Pakistan and the United States. The Ambassador remarked that the Embassy and our four consulates remain committed to serving the consular needs of the community. He also appreciated the role of the community in promoting the values of tolerance, harmony and understanding. He also noted Pakistani diaspora's increasing participation in political life of their adopted homeland.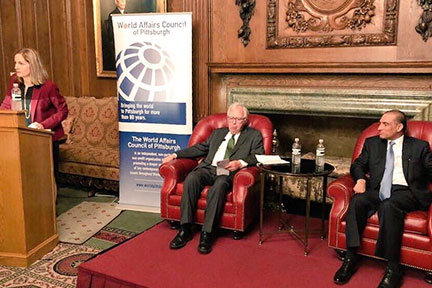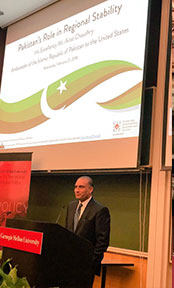 Washington DC,
21 February 2018