Chancery Building
Since the time of establishment of Pakistan's resident diplomatic mission in the United States, the old chancery building was part of the famous Embassy Row on Massachusetts Avenue near Dupont Circle.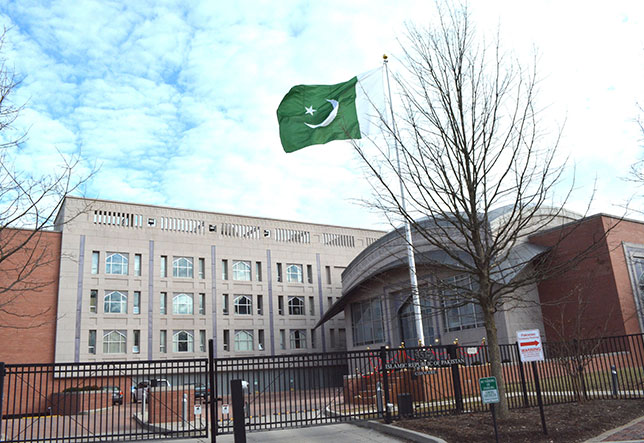 The building was the talk of the town and one of Washington's most popular diplomatic missions in its heyday.
Designed by renowned Pakistani architect Nayyar Ali Dada, the current Chancery premises is a unique fusion of legendary Mughal design and contemporary office architecture. The Chancery was inaugurated in June 2004 by then President Gen. Pervez Musharraf. The marvel of the new building is the replica of "the Sheesh Mahal" or "Crystal Palace" which was a palace of the Mughal rulers at Lahore Fort. With its traditional arched rooftop giving a round appearance, the building's huge windows provide ample sunlight and spaciousness to the occupants.
Inside the Chancery, the replica of the Sheesh Mahal constitutes the main entrance as well as its reception area and provides a spacious hall, named the "Jamsheed Marker Hall" to honor one of Pakistan's illustrious former Ambassadors to the United States. The Hall can hold up to 300 persons but the Embassy's popular receptions have at times seen crowds swell up to even 500. The building also has a state of the art auditorium with a capacity of around 85 to 90 persons, as well as conference room.
This part of the Chancery complex joins a rectangular building which is four storeys tall and houses the offices for the Embassy's various wings as well as Consular Section. The exterior of this building is also in red brick with aluminum and traditional tilework borders to blend it with the Sheesh Mahal block. The building oversees a large courtyard, which is also reminiscent of Mughal buildings. The Pakistan flag flies proudly over these two beautiful buildings in the serene Washington setting.