An event was organized to celebrate the life and works of Dr. Hafeez Malik, veteran scholar and renowned academician at the Embassy of Pakistan, Washington DC today, 13 July 2019. Dr. Malik has been instrumental in creating a scholarly identity for Pakistan and Pakistani Americans in the US.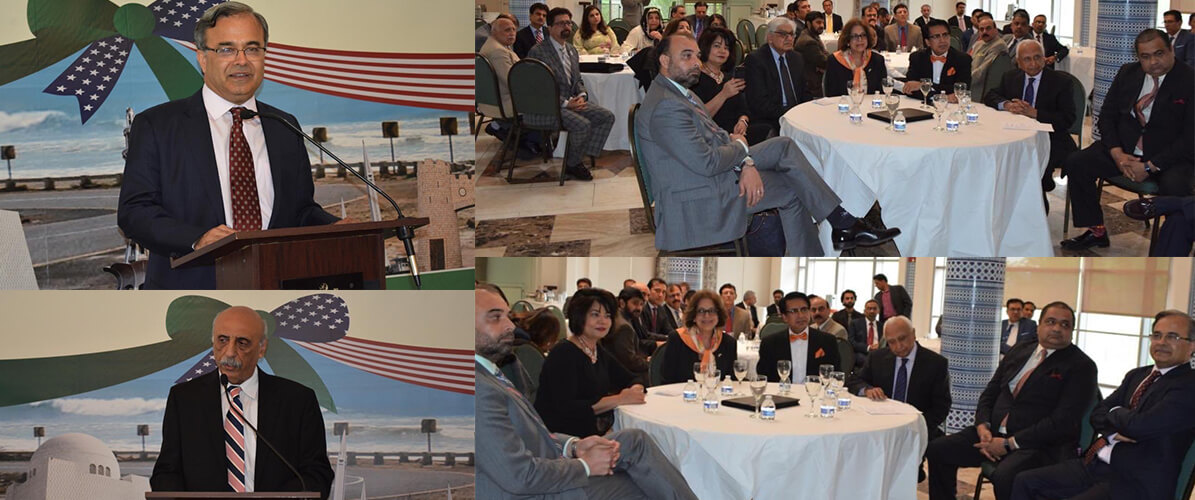 Ambassador Dr. Asad M. Khan hosted a delegation of Association of Physicians of Pakistani Descent of North America (APPNA) led by President Naseem A. Shekhani, at the Embassy on 01 May 2019 and shared with them views on Pakistan-U.S. relations. Ambassador Khan encouraged APPNA members to continue contributing actively towards stronger Pakistan-US ties.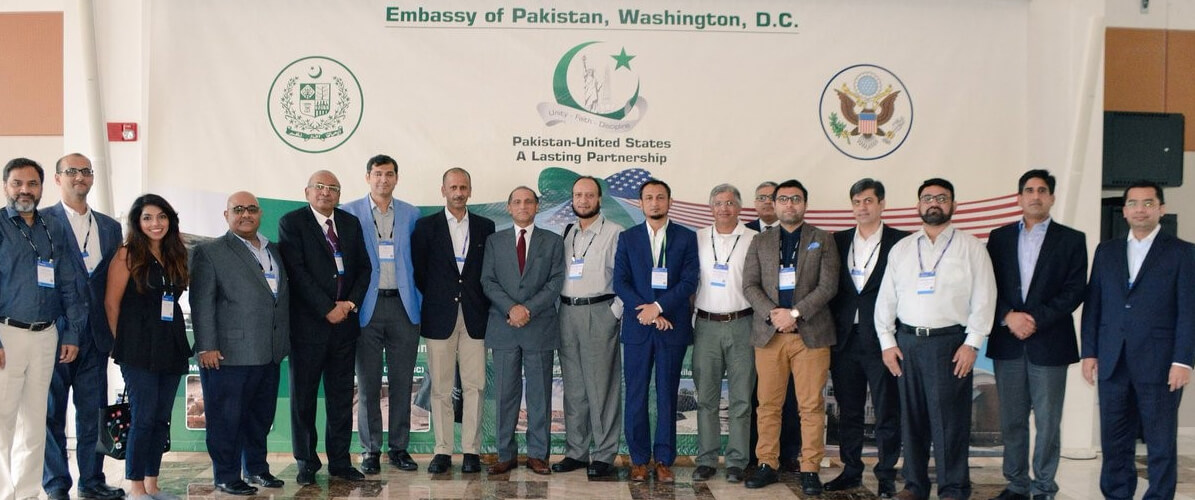 Ambassador Aizaz Ch. with a delegation of Pakistani IT professionals visiting DC to participate in Microsoft Global Partner event "Inspire"

Washington: While speaking on the occasion, Ambassador Aizaz Chaudhry stated that Urdu literature, particularly Urdu poetry has served as a major element to promote Pakistani culture and literature in the US. It has also strengthened cohesion and bond amongst Pakistani American Community in the USA.
Washington: Group Photograph of the Ambassador Aizaz Ahmad Chaudhry with Urdu poets towards the end of the Adabi Nashist dated 15 April 2018.

Air Attache's wife represented Pakistan at International Show Case event organized by the Air Attaches Spouses Association in Washington DC today, 14 March 2018. Mrs.General Goldfein (US Air Force Chief) was also present at the Pakistani Stall.
Group photo of Ambassador Aizaz Ahmad Chaudhry with prominent members of Urdu Writers' Society of North America at a luncheon hosted by the society in honor of the Ambassador in Los Angeles today, February 12, 2018. CG, Los Angeles, Mr. Jabbar Memon was also present on the occasion.
Ambassador Aizaz Ahmad Chaudhry photographed with CG XI (Greens) and Kashmir XI (Blues) at Santa Clarita, California today February 11, 2018. Ambassador also witnessed a friendly match between the two teams. CG,Los Angeles Mr. Abdul Jabbar Memon was also present on the occasion.
Ambassador Aizaz Ahmad Chaudhry presenting a trophy to the captain of the winning team, Consul General's XI after a friendly match between CG XI and Kashmir XI which was played at Santa Clarita, California today, February 11,2018.

Embassy of Pakistan participated in the '6th Annual Winternational Embassy Showcase-2017' held at the Ronald Reagan building, DC on 06 December 2017.
Ambassador Aizaz at the launch of "Angels Within" a docudrama on the services of Pakistani American physicians by Mr. Noor Naghmi on December 3, 2017.
Ambassador Aizaz Chaudhry and his wife Mrs.Najia Aizaz viewing an exhibition of paintings by Ms.Saadia Hussain in Washington DC.
Famous British-American mountaineer Ms. Vanessa O Brien visited the Pakistan Embassy and shared with the Embassy officials her experience of climbing to the summit of Mount K-2. She praised the hospitality of the people of Pakistan and the pristine natural beauty of the country and invited the rest of the world to hidden the true beauty of Pakistan. She also presented a signed flag of Pakistan to the Ambassador. October 10, 2017.
Amb. Aizaz Chaudhry attended and addressed a Mushaira organized by the Pakistani American community at Springfield, VA. Renowned poets Mr. Aslam Islam Amjad and Mr. Anwar Masood were the special invitees to the event. – September 10, 2017.
Ambassador Aizaz Chaudhry presided over an Urdu Poetry Recitation event organized by Urdu Writers Society (North America) in California.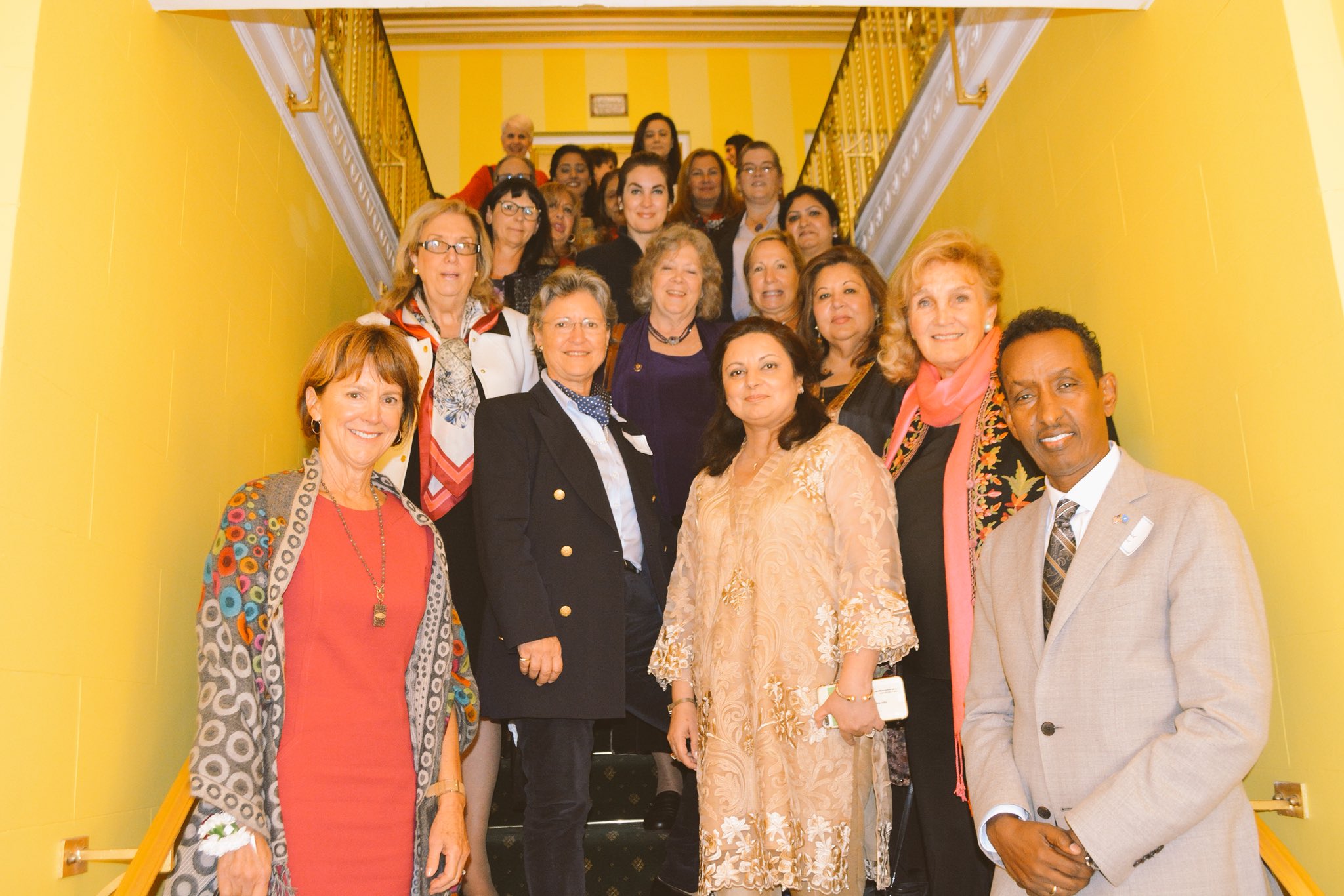 Group Photo of the participants of "The Colors of Pakistan" event at the Pakistan House, Washington DC.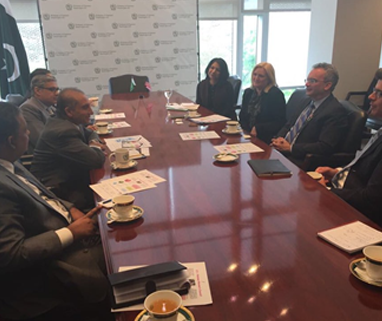 A delegation of US Pakistan Women's Council including State Department officials met Ambassador Aizaz Chaudhry.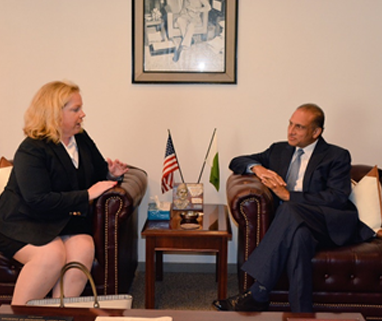 Ms. Charity Boyette, Executive Director, US Pakistan Women Council (USPWC) called on Ambassador Aizaz Chaudhry on August 22, 2017. They discussed projects & initiatives taken by USPWC & its partners to increase women's access to employment opportunities.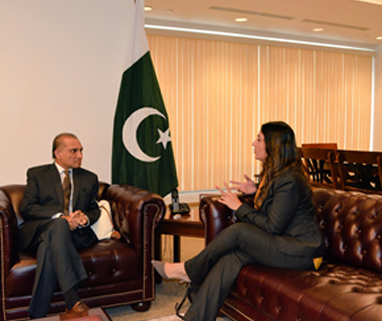 Ms. Sumera Haque, Senior Director, Clinical Operations, George Washington University (GWU) and Consultant at Johns Hopkins University, called on Ambassador Aizaz Chaudhry on August 11, 2017. They discussed gender equality issues faced by women in developing countries.
Ambassador Aizaz Chaudhry interacted with leading Los Angeles based Pakistani-American women entrepreneurs, professionals & businesspersons.
Ambassador Aizaz Chaudhry addressing the Board of Trustees of the Medical Clinic of the Muslim Community Center (MCC) on December 22, 2017.
Ambassador Aizaz Chaudhry presenting a souvenir to Dr. Rashid A. Chotani, Executive Director of the MCC Medical Clinic on December 22, 2017.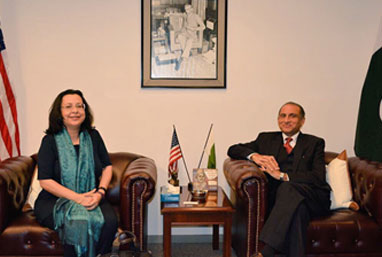 Dr. Anita K.M. Zaidi, Director, Bill & Melinda Gates Foundation called on Ambassador Aizaz Chaudhry at the Embassy on November 08, 2017 and briefed him on the initiatives of the Foundation and its work in Pakistan.
Ambassador Aizaz Ch. visited special consular camp established at APPNA Annual Convention, held from 5-9 July 2017 in Orlando, Florida.