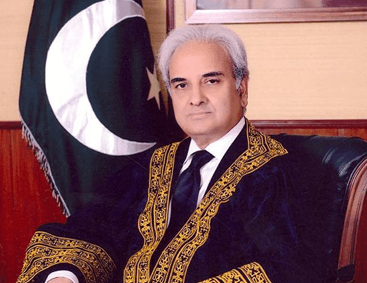 The Prime Minister of Pakistan
Justice (Retd) Nasir-ul-Mulk
Prime Minister Justice (Retd) Nasir-ul-Mulk is a distinguished Pakistani jurist, who is currently serving as the Caretaker Prime Minister of Pakistan.
He was sworn in as Caretaker Prime Minister on 1st June 2018, after the completion of the five-year term of the National Assembly on 31st May 2018.
Prime Minister Nasir-ul-Mulk was born in Swat, Khyber-Pakhtunkhwa on 17th August 1950. He graduated from Peshawar University in 1972 with an LLB degree and then proceeded to the United Kingdom. He was called at the Inner Temple in England where he did his LLM and qualified as bar-at-law in 1976.
Upon returning to Pakistan, Nasir-ul-Mulk practiced law at the Peshawar High Court, and also taught law as a Professsor at the Peshawar University. Nasir-ul-Mulk practiced law for over 17 years at the Peshawar High Court during which time, he was elected as Secretary-General of the Peshawar High Court Bar in 1981. From 1993–94, he served as Advocate General of provincial government of Khyber–Pakhtunkhwa, assisting in legal matters and affairs.
He was elevated as judge at the Peshawar High Court on 6th June 1994—a post he retained until 2004. He was appointed as Chief Justice of Peshawar High Court on 31st July 2004, and moved to the Supreme Court of Pakistan in 2005.
He served as the 22nd Chief Justice of Pakistan from 6th July 2014 to 16th July 2015.
Earlier, he also served as acting Chief Election Commissioner of Pakistan, from 30th November 2013 to 6th July 2014.